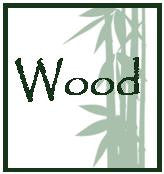 It's Springtime again!
'Tis the season for dusting off those work boots and getting into your garden or taking a stroll through the park to see the cherry blossoms. So many things to like about Spring! 
With this renewed energy comes the spirit of growth and activity. It is important to listen to your body during these times to make sure you don't overdue and injure yourself. It is also important to realize that this is the time when the WOOD energy will be utilized so you can carry out whatever plans you make.

WOOD energy is associated with the Liver and Gall Bladder. WOOD is the energy of independence, responsibility, growth, activity, pushing through challenges, branching out, reaching higher, being decisive, making plans and carrying them out and juggling tasks. It is the energy of being in charge. 

What does this mean? It means that now is the time to start those projects you have been putting off, to set a goal and work on achieving it, to aim higher. It is also a good time to do a cleanse to clean out the toxins and take multi-vitamins and enzymes to help your liver work more efficiently. It is important to limit your intake of fats so as not to overtax your gall bladder. It is also a good time to stretch more and get massage because the liver governs the tendons and stretching the muscles takes pressure off the tendons to give you more freedom in your joints.    

It is also important to be mindful of your emotions. Anger can aggravate the liver and is also a sign of liver imbalance. Irritability, frustration, indecision are all blocks to physical health, particularly of the liver and gall bladder. You may even experience apathy, lack of motivation, or self-pity if your wood energy is imbalanced. Let's get to the source of why they are coming up and fix that! 
You need to work on your Wood energy if you :
are feeling stuck

having a hard time getting off the ground and moving forward

are depressed

are bitter or resentful

tend to believe you are right and everyone else is wrong

blame yourself or others for everything

tend to be easily angered or  frustrated 

tend to take on too much responsibility 
If you would like to keep your WOOD energy balanced, I can help with that.
I offer Spiritual Life Coaching via the phone or in person to give you solutions on handling the source of your stress, including empathic readings to get specific guidance for you and guided meditations for you to  find your center. 
My book Follow the Signs can help you find direction and I offer a free 30 minute session with each purchase.
I offer Jin Shin Do BodyMind Acupressure to release unconscious blocks to your happiness and relax your body in addition to therapeutic massage. (must be done in person)
I have created the following products for you to use on a daily basis to relieve your stress.
My new song, Keep Movin On, can keep you going when your steam has run out and has gotten me through some really tough times.
Remember, stress is the #1 risk factor for disease. Let me help you get a handle on it by working on the causes 
SPOTLIGHT ON: HAPPY SCENT
CONDITIONS:
- FRUSTRATED
- IRRITABLE
- ALWAYS TAKING CARE OF OTHER'S NEEDS
- DEPRESSED
- WORRIED
- NEED TO CLEAR NEGATIVE ENERGIES
YOU NEED HAPPY

Scent: Citrus
Contains: mexican lime, pink grapefruit, tangerine, lemongrass, bergamot, pine, fir and frankincense. 
Available in: Liquid Hand & Body Wash- Now available in 32 oz economy size, Organic Olive Oil Lotion, Shea Massage & Body Butter, Massage Oil, Linen/Body spray, Pure Essential Oil, Roll-on
SPOTLIGHT ON: LOVE SCENT
CONDITIONS:
- GRIEVING A LOSS
- ANXIOUS
- FEELING UNLOVED 
- GOING THROUGH BREAK UP
- DIFFICULTY SLEEPING
- LACKING CONFIDENCE OR SELF LOVE
YOU NEED LOVE

Scent: Floral, sweet and heady
Contains: lavender, mandarin, marjarom, chamomile, rose, bay laurel, frankincense, vetiver and labdanum
Available in: Shea Massage & Body Butter, Massage Oil, Linen/Body spray, Pure Essential Oil, Roll-on
 * not for use during pregnancy
SPLENDOR SCENT
---