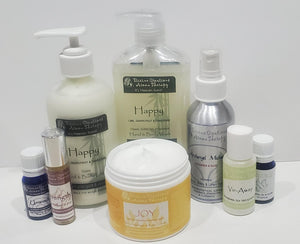 Need support during this challenging time?
It's no secret we are all going a little stir crazy being quarantined from this recent pandemic, and it's only been a couple of weeks! So how are you handling this frustrating time?
Are you getting creative? Are you itching to go back to work? Are you worrying about finances? Are you afraid to go out?
However you are feeling is completely valid. It's a scary time. It helps to know we are all in this together though. If you are not on the front lines, at least you can spend time with your family (if you're not working), or get some dormant projects done or read that book you've had sitting on your nightstand for 2 years. If you are on the front lines, may I say we appreciate you so much! You are the heroes of this unfortunate time and without you we wouldn't survive. Please take time to be kind to yourself along the way and give back to you so there is something to give. We are all very lucky to have such caring people in this world!
While we watch the news and see what we can and cannot do and understand how to stay safe, we all can be helping ourselves a little bit with natural kitchen cabinet remedies for boosting immunity. 
 Here is an informative guide to what essential oils can   be helpful as well as the herbs in your kitchen to protect   us at this time and during any cold/flu season. You can   read the whole article here:
  Protect yourself from cold & flu viruses
For mental health, here are some ideas to get you through this tough time. Some items are taken from this ebook How to Soar When You Feel Defeated.
1. Reach out to friends/family. Stay connected! We have multiple ways to stay in contact virtually with FaceTime, Skype, Zoom, What's App, Facebook Messenger, Google Duo (allows both apple and android os to communicate), Livestreams etc. The world has gotten a whole lot smaller since the invention of these wonderful apps. 
2. Seek Fun. The best way to pass the time and keep spirits lifted is with laughter and creating JOY. Explore sites showcasing jokes, playful memes, DIY projects, funny movies, play games with family or on your phone, create something new and share the pictures on social media or through text to stay connected.
3. Learn something new. Staying in gives you time to explore creative projects you've been thinking about or learning a new craft. There's plenty to find online from Daily Om to Skillshare to DIY on Pintrest and YouTube, not to mention just googling the topic you want to learn about and seeing where that takes you. There is so much to explore now and if you're not working, this is the perfect time!
4. Spring Clean! Now is a great time to clear the clutter! Clean out your house and clear out the thoughts that are bringing you down to make room for new positive energy when this crisis is over. Clear out things of the past that have not so fun memories attached to them, clear out clothes that don't fit so looking at them doesn't bring you down, clear out the refrigerator of old food and condiments so they don't take up space for fresh items. Clearing space with sage, essential oils and crystals is also helpful to raise your spirits by raising the vibration in the house. It will invite fresh new positive energy in and clearing out negative beliefs will help you become a more powerful manifestor for all you desire! 
5. Use tools to assist with staying calm and positive. Essential oils are a great way to uplift and calm. They carry specific frequencies of energy that affect the physical and emotional bodies at the same time. Use them in your house in a diffuser, on your person as a perfume or lotion and in meditation. Smudging with sage leaves, palo santo, sweetgrass, cedar or rosemary is also helpful for uplifting. Crystals positioned in the right places can bring in more positive energy and block the negative as well. Meditate, pray, journal, eat healthy foods and supplements, drink water, take baths, exercise, stretch and get your rest!  
To assist with supporting your process, take 15% OFF this collection of Divine Creations AromaTherapy Essential Oil products to calm and uplift through APRIL 15TH. Take good care and pass the love on!
 TRY THESE CALMING & UPLIFTING      FORMULAS TO FIGHT ANXIETY
If you're struggling and want to talk with someone to overcome your challenges or get healing to relieve pain, schedule a remote session HERE
New Videos are now posted to the Journey into Joy YouTube Channel:
If you need a boost, check these out: AFFIRMATIONS ON YOUTUBE
Want to have a little fun and get exercise? Try this dance exercise routine and light up the house with positive vibes. Check it out here: Can't stop the feeling dance routine
Here is a new channeled message from our angel guides:    MESSAGE OF INSPIRATION FOR CHALLENGING TIMES 
If you're lonely, see How to Turn Loneliness into a Gift
And finally, a song to inspire you to  Keep Movin On
Thanks for reading and Remember, BE NICE TO YOURSELF!
Jakki Gioia
JourneyintoJoy.com
DivineCreationsAromatherapy.com
855-206-HEAL
---